Sound Transit Art Program:
Overlake Transit Center at NE 40th Street, 2002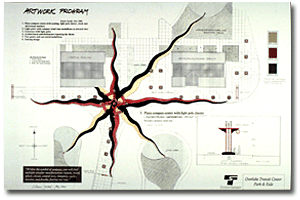 PROPOSAL BOARD, 24"X36"


The general job of the public artist is to think of the history, context, and purpose of a place and to validate it and express it visually. As an artist for a transportation project, my basic approach to an artwork program is to create and integrate artworks that help people find their way and mark a place. In the human experience of riding public transit there is a sense of wanting to be reassured as to where you are going.

I developed a unifying theme using the universal and timeless image of the compass. I strive to combine beauty with function to give the a site a unique identity, making it a classically timeless yet a playful place for its patrons.

Working with the landscape architect, architect, and client team, I designed a large compass design in colored concrete located in the center plaza. The longest curvilinear arms of the compass serve as an east-west orientation line for pedestrians, connecting the facility's service buildings with the bus loading areas and the Microsoft campus. A group of light poles at a seating circle marks the center, and marks the cardinal points. The poles are topped with a 7ft. diameter 3-D Stainless Steel armillary that serves as a landmark and repeats the compass theme. Other elements include tree grates, entry gates, and cast medallions denoting the cardinal points - all incorporating variations on the patterns and shapes found in the circular compass design.

Please view our QUICKTIME MOVIE CLIP of the hoisting into place the stainless steel armillary on May 21st, 2002.

The OVERLAKE TRANSIT CENTER is located at the edge of the Microsoft campus in Redmond.