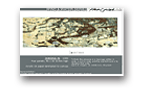 WIND & WATER SERIES
Paintings 1999-00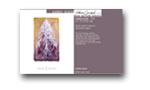 MIND NATURE SERIES,1998
Fifteen paintings exploring
the idea of mapping ....

FROM MY EARLY TRAINING IN SCIENCE,
and through my primary work as a fine artist, my concerns center on exploring a territory where scientific inquiry meets spiritual and aesthetic questing. I am interested in the power of human symbols and codes as a way to integrate diverse, yet universal cultural and psychological meanings. And, I am interested in the power and mystery of beauty.

:::
Most of my images, whether private or public, explore the dialectic between the human mind in it's capacity to organize, control, and understand nature, and the energetic natural phenomena of our world such as geologic forms, water and weather. I think of my images metaphorically, so my work is "about" energy flow, balance, and a search for harmony and an inner peace in the midst of the ever changing forces that create and destroy life.

:::
Since 1995 I have worked on a series of paintings centered around the idea of mapping - that human activity that graphically plans, collates, comprehends, and isolates in measurable parts our natural world - at a macro or microscopic level. I find this activity of "mapping" central to our attempts to create order and understanding out of the chaos of the fluid, unpredictable and often frightening forces of nature, including our own psyches.